MedOffice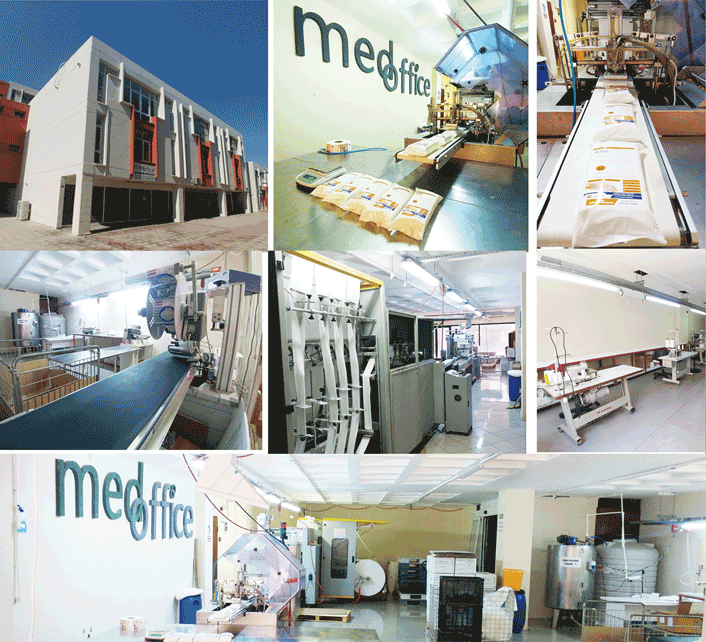 As a Medoffice  Health Industry Inc  continuing to work for more quality products with automatic machine trails, fully equipped microbiology laboratory, 3 chemists and 17 equipments in 1200 m2 production facility.
We have more than sixty dealers in Turkey, we also export to more than 10 countries abroad.
Our purpose is produce to preventive patient care products since our establishment
We are search to new ways for prevent the infection, develop to patient care and decrease to damage on body. Cause of this, our R&D department is constantly on the move in order to help develop health services and to offer new solutions.
Medoffice's slogan is to increase the protection power through innovation and benefit the thousands of people we touch day to day.
We are working to improve the healthcare industry and we strive to improve ourselves so we are positively effecting quality care for individuals and communities around the world.
We never forget that our efforts directly affected the lives of others. We are investing in patient care today and this will result in a healthier tomorrow. We can create a together  healthier future.
Quality Certificates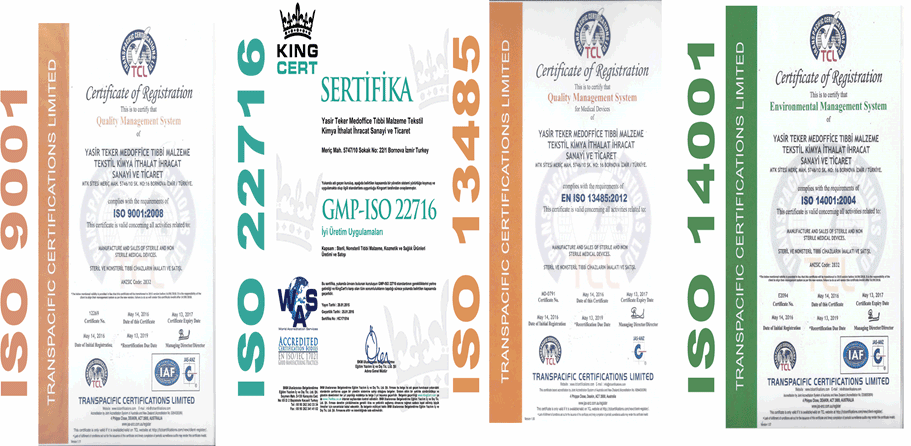 PRODUCTS LIST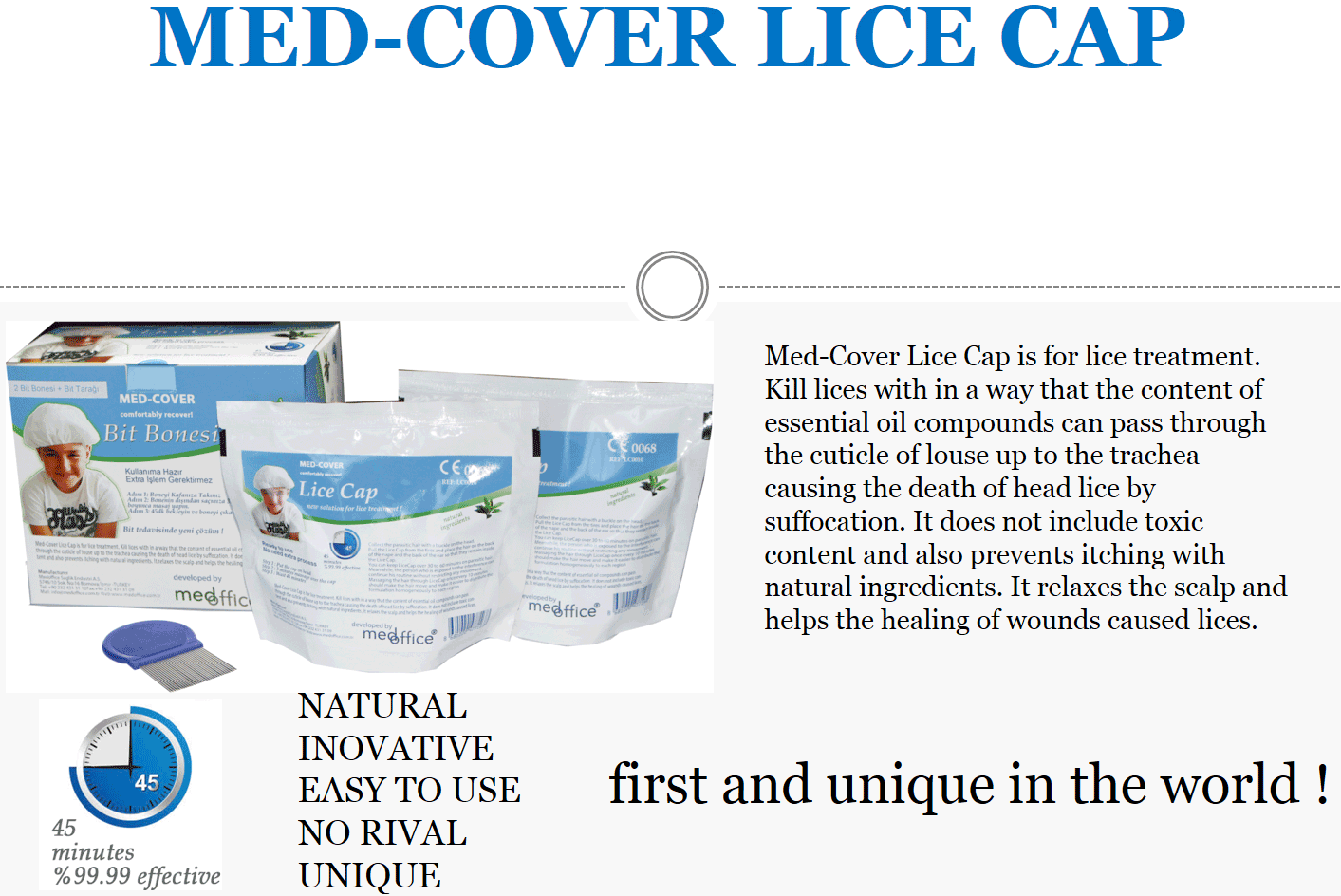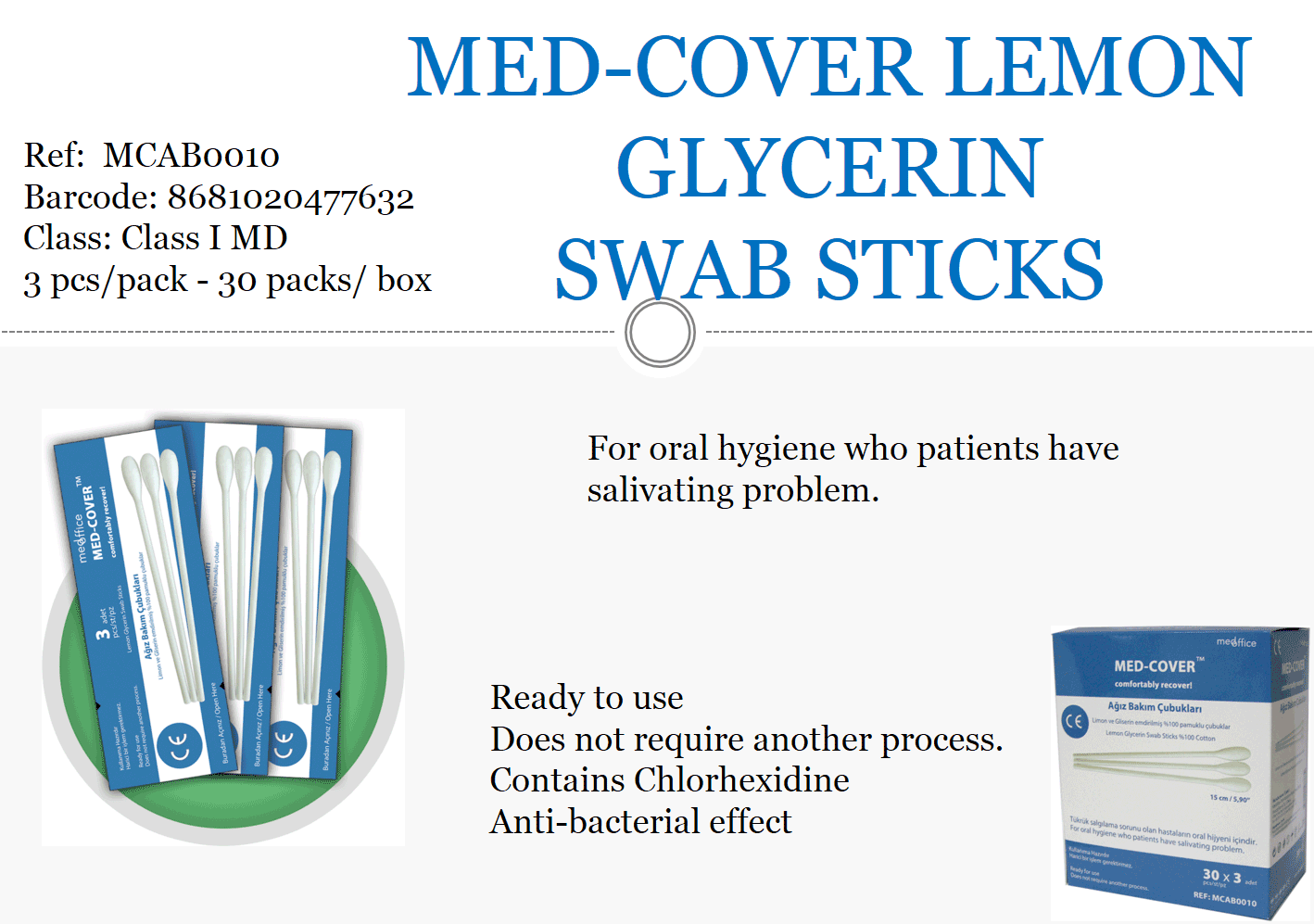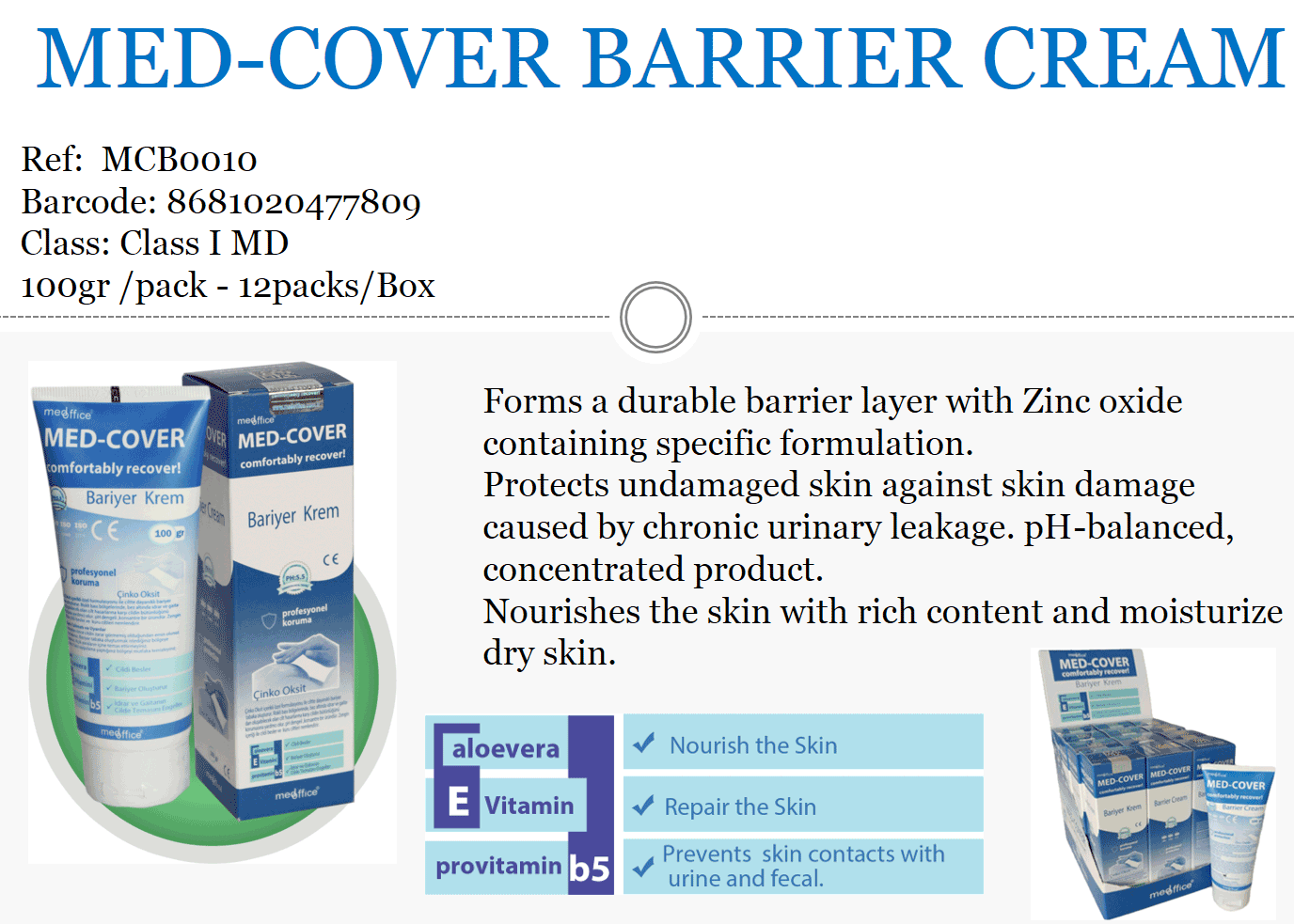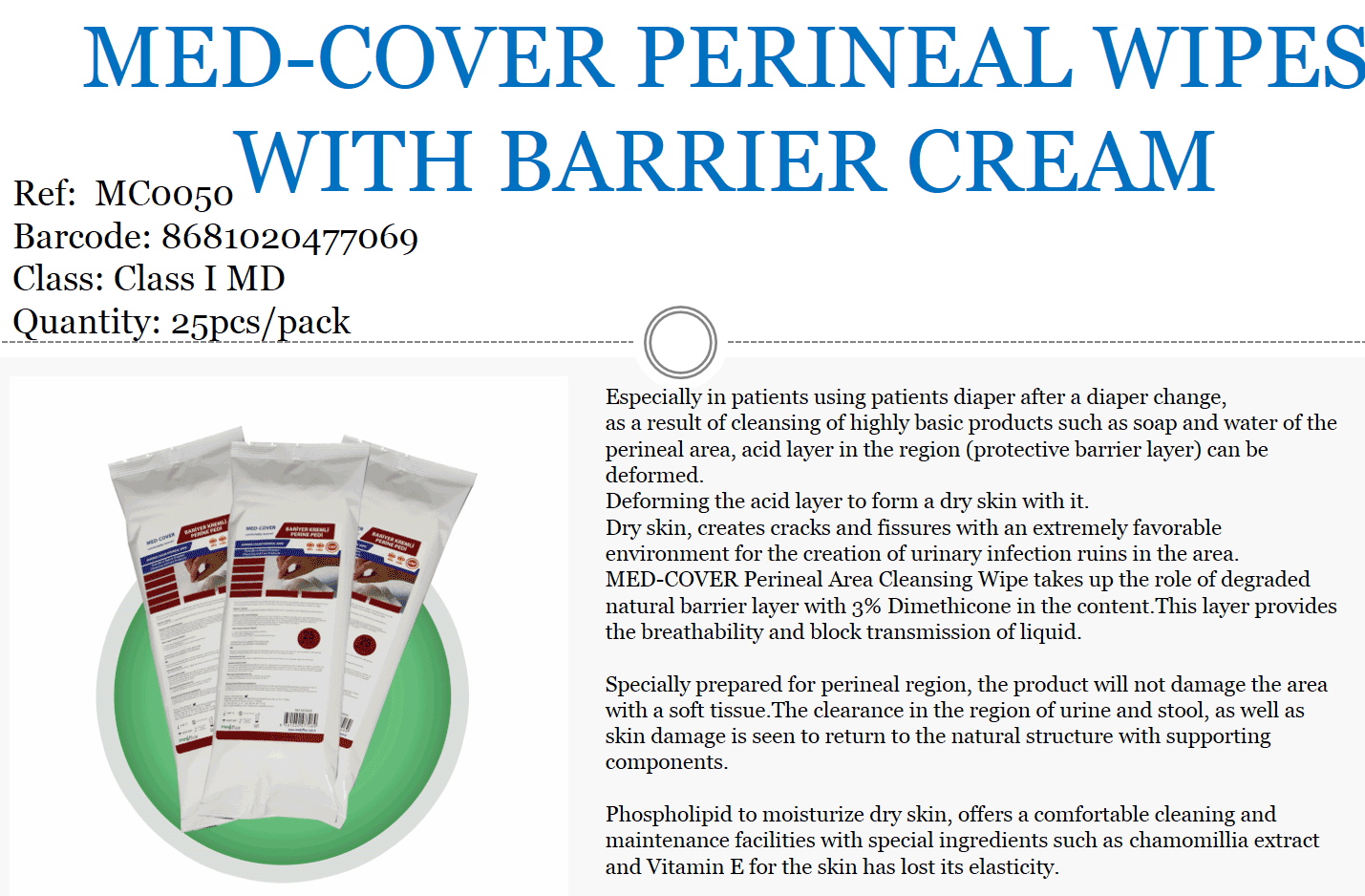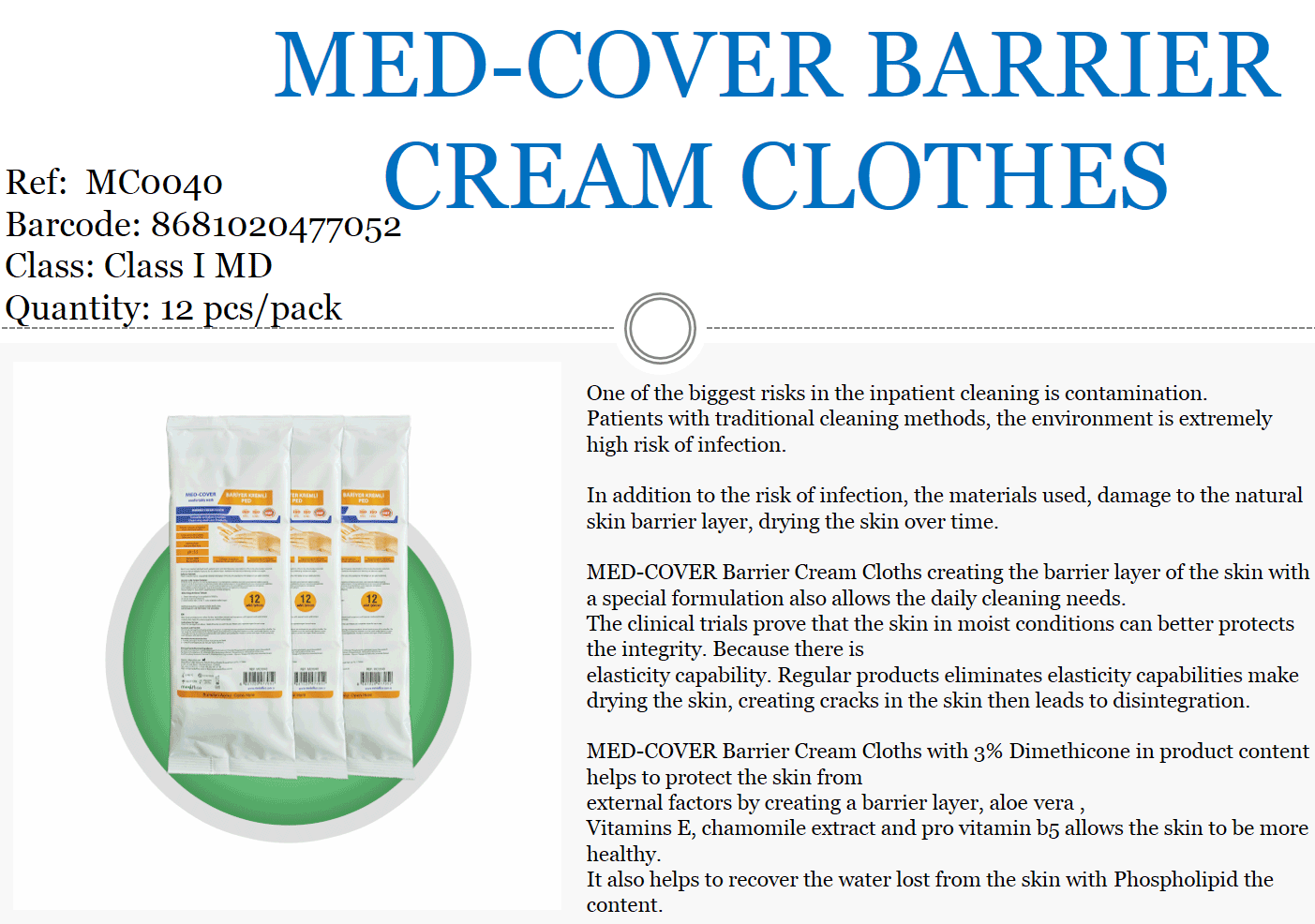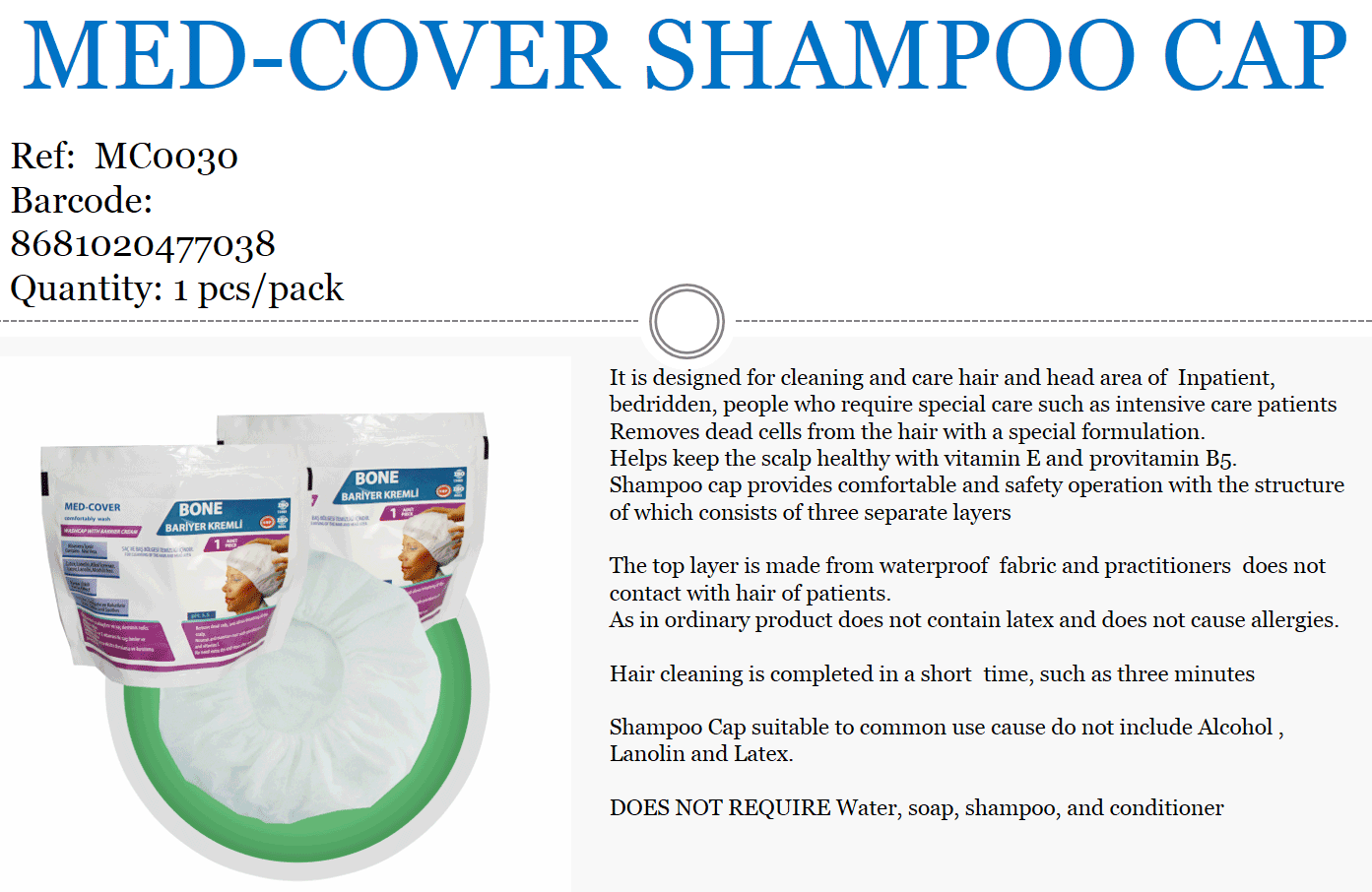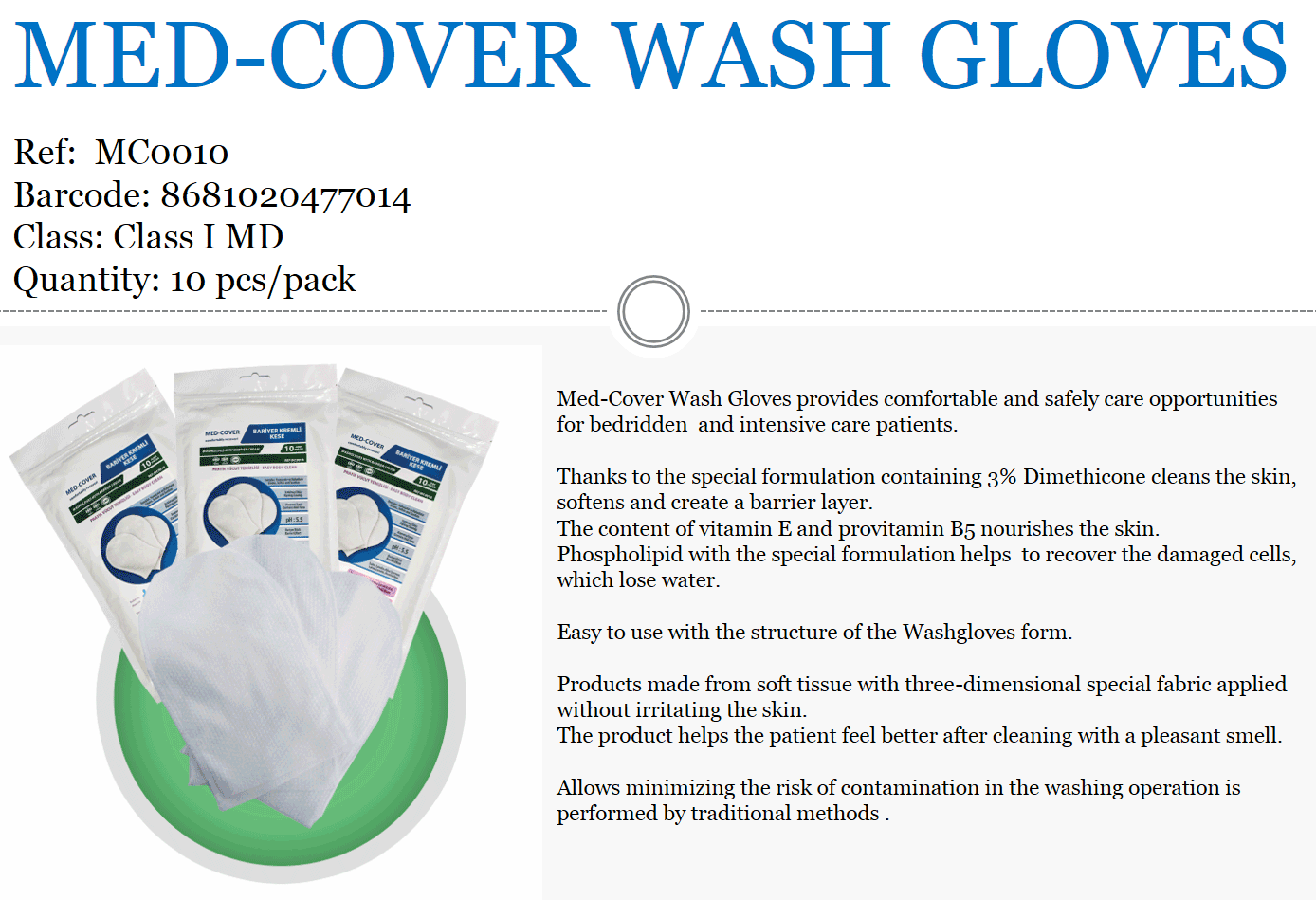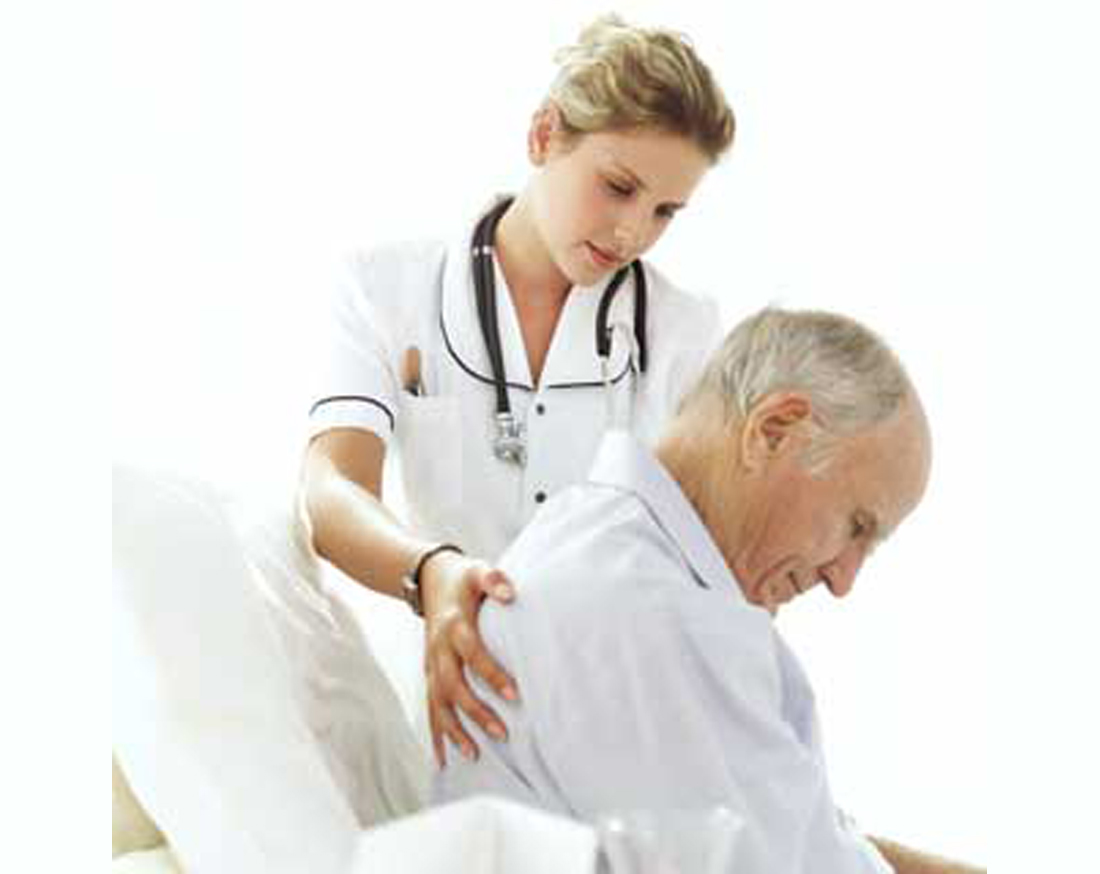 Incontinence Care
People who have problems controlling their urine or bowels (called incontinence) are at risk of skin problems around the buttocks, hips, genitals, and the area between the pelvis and rectum (perineum).
Excess moisture in these areas makes skin problems such as redness, peeling, irritation, and yeast infections likely.
Bedsores (pressure sores) may also develop if the person:
- Has not been eating well (is malnourished)
- Received radiation therapy to the area
- Spends most or all of the day in a wheelchair, regular chair, or bed
TAKING CARE OF THE SKIN
Using diapers and other products can make skin problems worse. Although they may keep bedding and clothing cleaner, these products allow urine or stool to be in constant contact with the skin. Over time, the skin breaks down. Special care must be taken to keep the skin clean and dry. This can be done by:
Cleaning and drying the area right away after urinating or having a bowel movement.
Cleaning the skin with mild, dilute soap and water then rinsing well and gently patting dry.
Use soap-free skin cleansers that do not cause dryness or irritation. Follow the product's instructions. Some products do not require rinsing.
Moisturizing creams can help keep the skin moist. Avoid products that contain alcohol, which may irritate the skin. If you are receiving radiation therapy, ask your health care provider if it is OK to use any creams or lotions.
References
Doughty D, Junkin J, Kurz P, et al. Incontinence-Associated Dermatitis: Consensus Statements, Evidence-Based Guidelines for Prevention and Treatment, and Current Challenges. Journal of Wound, Ostomy and Continence Nurs. 2012; 39(3):303-15. PMID: 22572899
MED-COVER Barrier Cream Cloths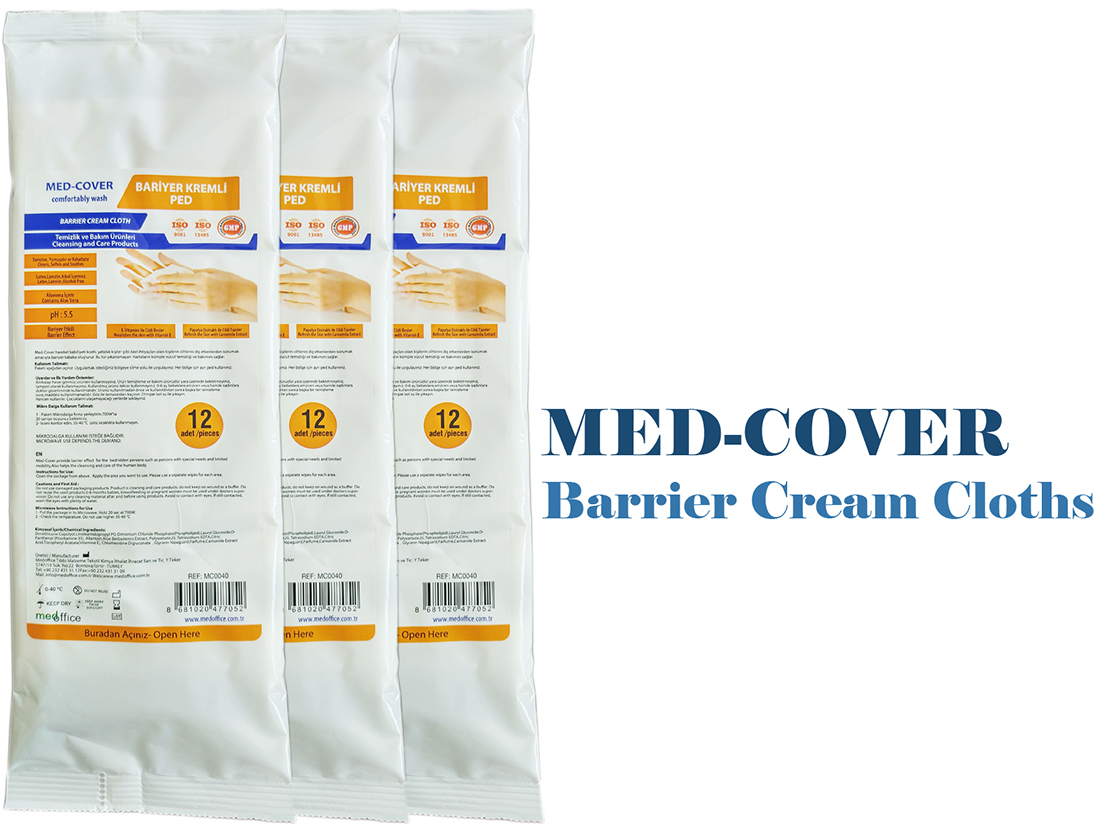 One of the biggest risks in the inpatient cleaning is contamination.
Patients with traditional cleaning methods, the environment is extremely high risk of infection.
In addition to the risk of infection, the materials used, damage to the natural skin barrier layer, drying the skin over time.
MED-COVER Barrier Cream Cloths creating the barrier layer of the skin with a special formulation also allows the daily cleaning needs.
The clinical trials prove that the skin in moist conditions can better protects the integrity. Because there is
elasticity capability. Regular products eliminates elasticity capabilities make drying the skin, creating cracks in the skin then leads to disintegration.
MED-COVER Barrier Cream Cloths with 3% Dimethicone in product content helps to protect the skin from
external factors by creating a barrier layer, aloe vera ,
Vitamins E, chamomile extract and pro vitamin b5 allows the skin to be more healthy.
It also helps to recover the water lost from the skin with Phospholipid the content.
CLEANSIN,CARE AND SAFETY
ALL IN ONE
MED-COVER Wash Gloves with Barrier Cream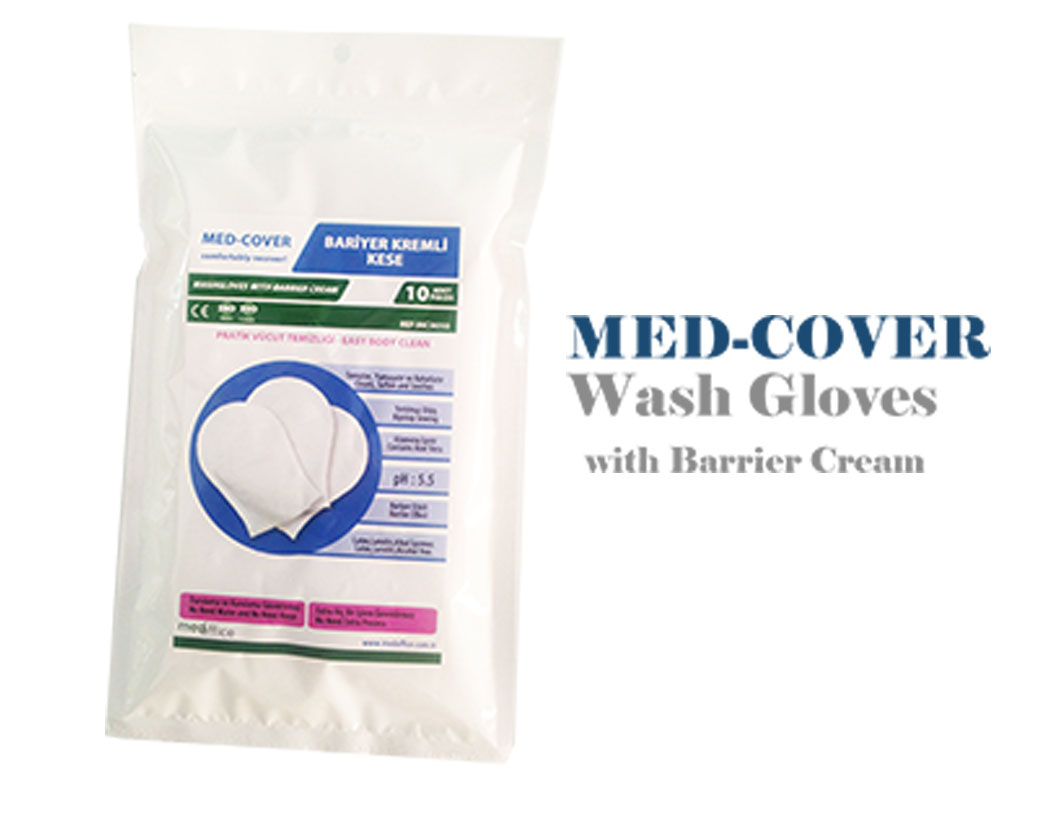 Med-Cover Wash Gloves provides comfortable and safely care opportunities for bedridden  and intensive care patients.
Thanks to the special formulation containing 3% Dimethicone cleans the skin, softens and create a barrier layer.
The content of vitamin E and provitamin B5   nourishes the skin.
Phospholipid with the special formulation helps    to recover the damaged cells, which lose water.
Easy to use with the structure of the Washgloves form.
Products made from soft tissue with three-dimensional special fabric applied without irritating the skin.
The product helps the patient feel better after cleaning with a pleasant smell.
allows minimizing the risk of contamination in the washing operation is performed by traditional methods .
MED-COVER Perineal Wipe with Barrier Cream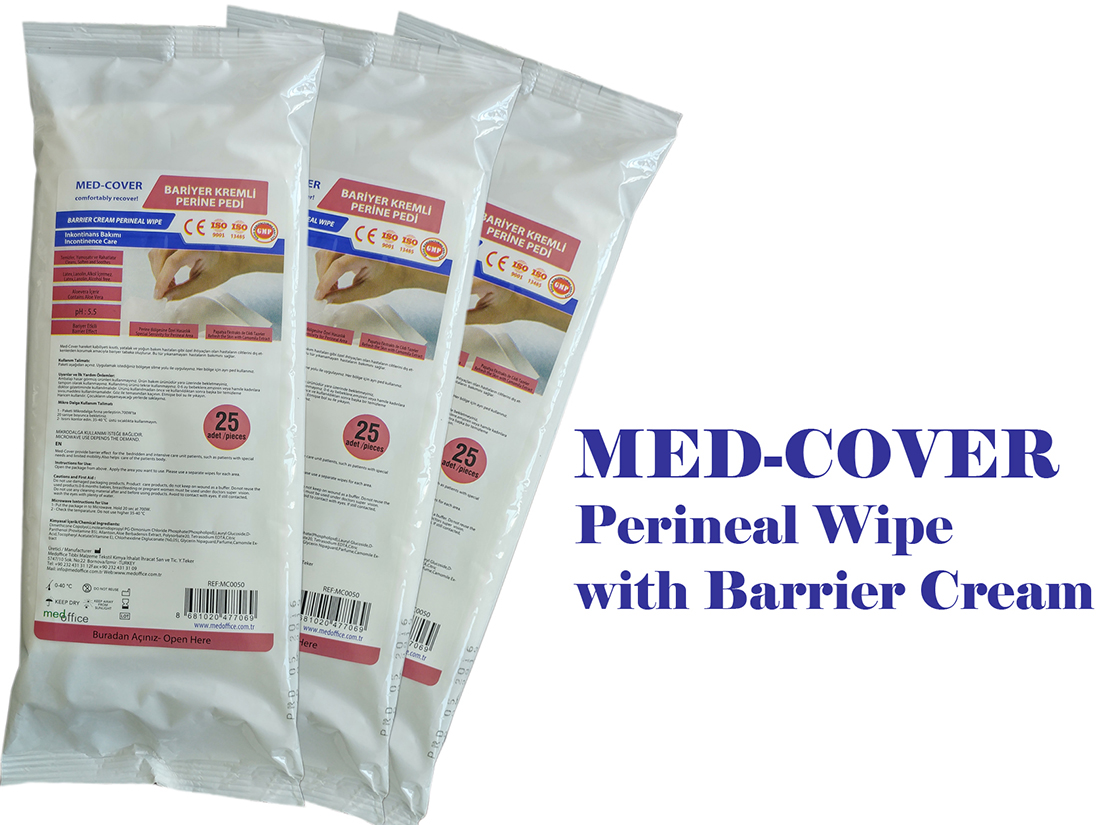 Especially in patients using patients diaper after a diaper change,
as a result of cleansing of highly basic products such as soap and water of the perineal area, acid layer in the region (protective barrier layer) can be deformed.
Deforming the acid layer to form a dry skin with it.
Dry skin, creates cracks and fissures with an extremely favorable environment for the creation of urinary infection ruins in the area.
MED-COVER Perineal Area Cleansing Wipe takes up the role of degraded natural barrier layer with 3% Dimethicone in the content.This layer provides the breathability and block transmission of liquid.
Specially prepared for perineal region, the product will not damage the area with a soft tissue.The clearance in the region of urine and stool, as well as skin damage is seen to return to the natural structure with supporting components.
Phospholipid to moisturize dry skin, offers a comfortable cleaning and maintenance facilities with special ingredients such as chamomillia extract and Vitamin E for the skin has lost its elasticity.
Products containing the 3% dimethicone with a neutral pH will be your first choice.
MED-COVER SHAMPOO CAP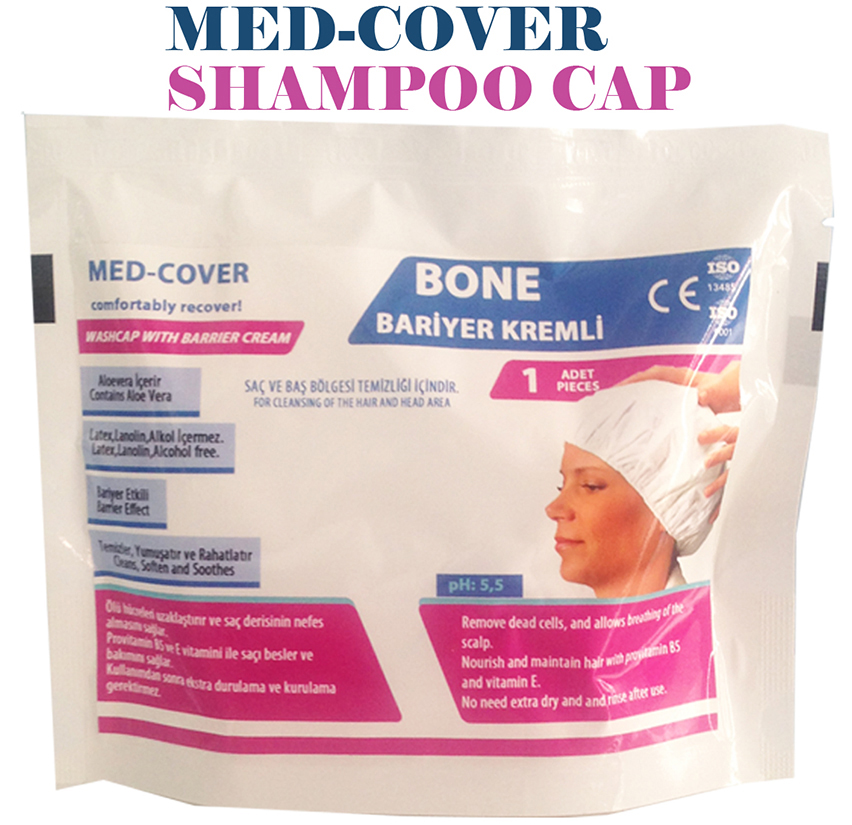 It is designed for cleaning and care hair and head area of  Inpatient, bedridden, people who require special care such as intensive care patients
Removes dead cells from the hair with a special formulation.
Helps keep the scalp healthy with vitamin E and provitamin B5.
Shampoo cap provides comfortable and safety operation with the structure of which consists of three separate layers
The top layer is made from waterproof fabric and practitioners does not contact with hair
patients.
As in ordinary product does not contain latex and does not cause allergies.
Hair cleaning is completed in a short time, such as three minutes
Shampoo Cap suitable to common use cause do not include Alcohol , Lanolin and Latex.
DOES NOT REQUIRE Water, soap, shampoo, and conditioner
MED-COVER LICE CAP : first and unique in the world !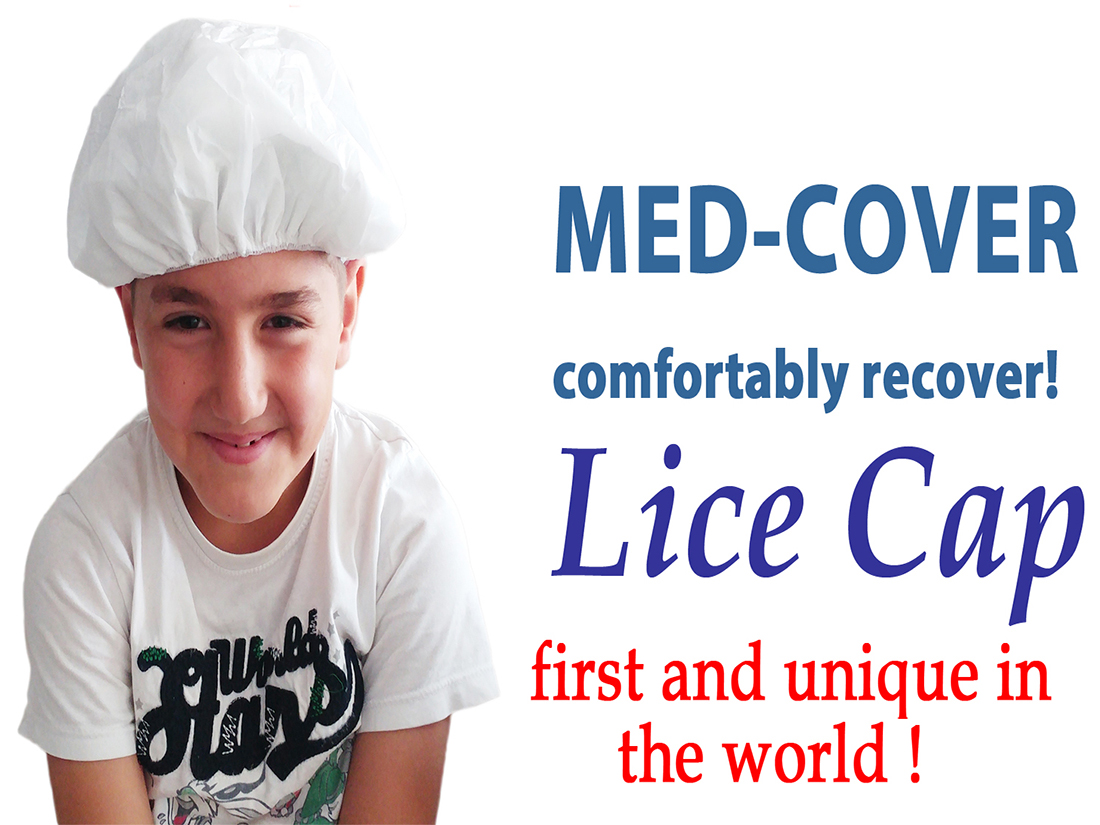 Med-Cover Lice Cap is for lice treatment. Kill lices with in a way that the content of essential oil compounds can pass through the cuticle of louse up to the trachea causing the death of head lice by suffocation. It does not include toxic content and also prevents itching with natural ingredients. It relaxes the scalp and helps the healing of wounds caused lices.
NATURAL
INOVATIVE
EASY TO USE
NO RIVAL
UNIQUE
MED-COVER Barrier Cream

Forms a durable barrier layer with Zinc oxide containing specific formulation.
Protects undamaged skin against skin damage caused by chronic urinary leakage. pH-balanced, concentrated product.
Nourishes the skin with rich content and moisturize dry skin.
Infection Prevention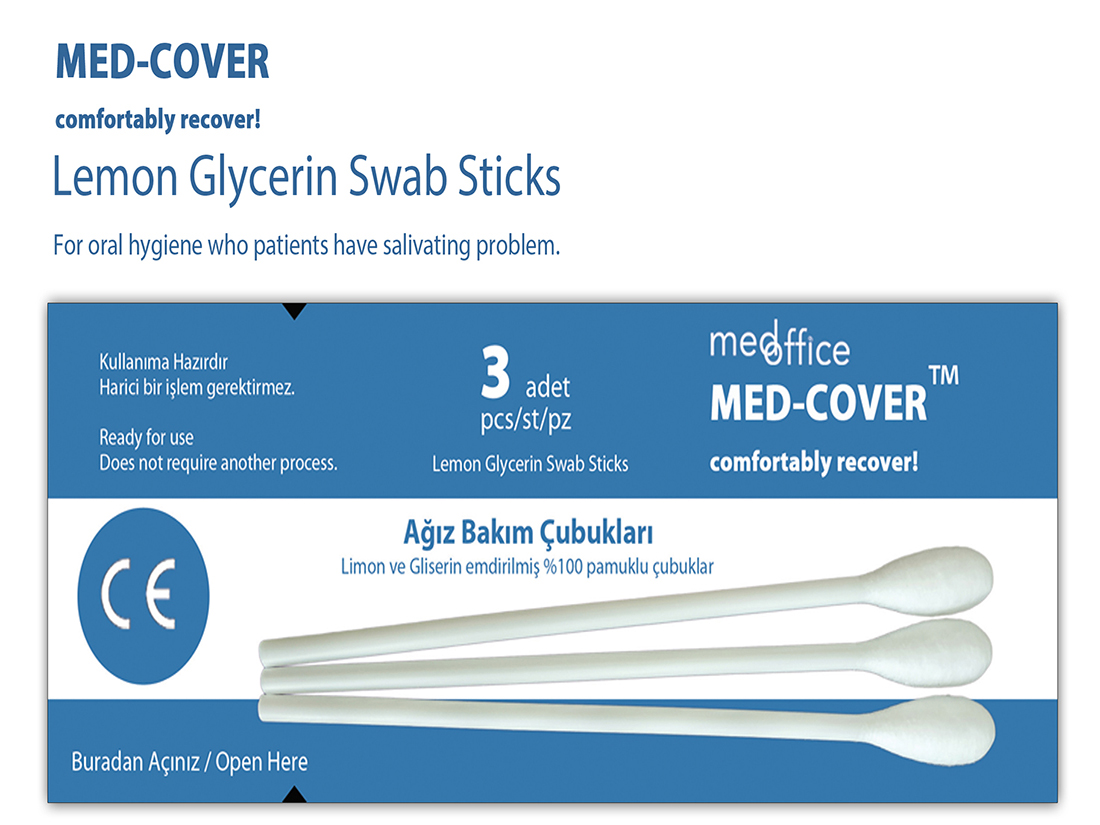 Infection prevention and control is required to prevent the transmission of communicable
diseases in all health care settings. Infection  prevention and control demands a basic understanding of the epidemiology of diseases; risk factors that increase patient susceptibility to
infection; and the practices, procedures and treatments that may result in infections.
The risk of acquiring a healthcare-associated infection is related to the mode of transmission of the infectious agent (e.g. CDI, SSI, CRE, MRSA, etc.), the type of patient-care activity or procedure being performed and the underlying patient's host defenses. Healthcare workers should be vaccinated against preventable diseases such as hepatitis B.
Personnel at risk for exposure to tuberculosis should be screened per recommendations
Products List